I received an award from Jay aka Xjoin89 yesterday. It's the I Love Your Blog award. THANKS Jay!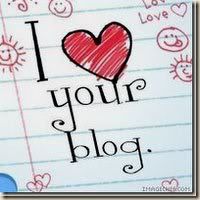 Few weeks back, I've got myself another award called the Butterfly Award, for the coolest blog I ever know from FookChing. THANKS CFC!
I don't know how butterfly can be linked to cool but who cares? These awards and logo has been circulating around in the blogosphere for quite some time already.
Before this, I've been a little reluctant to put these on my blog because I tried not to put too many things around. It looks kinda messy and I'm afraid people will be jealous of it. Ha!
Accepting these awards also means that you have to pass the award to 7 or 10 other people! If the award is so unique and specially for you, why do you have to pass the same thing to so many people? Then soon, every blog will be the coolest blog or most loving blog!
So, I wrote this special post to show my gratitude to Jay and FookChing for liking my blog.
But for me, I won't be listing out the coolest blogs or best blogs because I like every single blog link listed on the right. [maybe not all but most of them] Each blogger has its own uniqueness and its own style, for whether it's a photo blog, travel blog, crap blog or just telling the story of life.
Hey you reading this, I'm giving your blog these two awards too! But you don't have to put the logo in your blog or even list out other cool blogs. Of course, you can add them in too if you want too.
Like to read a blog doesn't mean you have to show it out by giving out awards. These stufs are just like chain letter, it keeps growing. Support the blogs you like by visiting them frequently and give comments so the blogger knows what the readers think about it.
Wanna thanks all my readers especially those who always gave their sincere comments, though there're not many of them. Terima kasih! 谢谢!Billy, out.